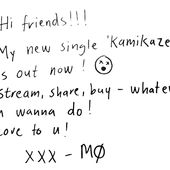 MØ - KAMIKAZE / NEW SINGLE OUT NOW !
Listen below, MØ's new single "Kamikaze" out now ! Stream, share, buy, whatever you wanna do ! love MØ / More infos via the official facebook page of the artist here. Hope you enjoy and stay tuned for more very soon, kiss.

(c) Louie Banks photo.
http://www.arcstreet.com/2015/10/m-kamikaze-new-single-out-now.html