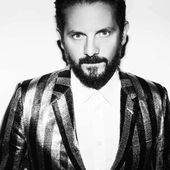 THE MAGICIAN / MAGIC TAPE N°64 + NEW SINGLE "SHY"
Back to school with The Magician Magic Tape n°64, that you can listen just below ! Check also The Magician new single "Shy" featuring Brayton Bowman on the vocals. Hope you enjoy, stay tuned for more quite soon. www.the-magician.com

Magic Tape N°64 / artwork by Baptiste Alchourroun.
http://www.arcstreet.com/2016/09/the-magician-magic-tape-n-64-new-single-shy.html