Cet article est reposté depuis Arc Street Journal.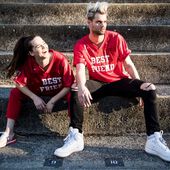 SOFI TUKKER RETURNS WITH NEW ISLAND DANCE POP 'ENERGIA'
SOFI TUKKER have shared a genre-defying new single "Energia." The track harkens back to their breakthrough "Drinkee" with Brazilian Portuguese lyricism, an ecstatic rhythm, and the Andean stringed instrument charango. The words are an invocation of joy and a plea to the universe, "Give me energy!" The group says, "With Energia, we have gone back to our roots as lovers of the Brazilian language.
http://www.arcstreet.com/2017/11/sofi-tukker-returns-with-new-island-dance-pop-energia.html